We love to hear from our customers. Here are a few letters we'd like to share with you.
I recently ordered a "print powder blues" scarf for my wife.  She absolutely loved it!  She gets compliments all the time on how great she looks wearing it.  We just got two more in the mail today that she has ordered.  She says they feel great and fit really well also.  The best quality, she looks absolutely beautiful in them!  I'm wondering now why we even bought a wig, because she looks more beautiful in these scarves.  And so many options…..I wish we could get them all Lol!
Thank you for creating such works of art to help her continue looking beautiful in this rough time of her life.
Chad E
My 5 year old daughter, Madison, suffers from Alopecia.
Anybody that suffers from Alopecia directly or in-directly knows that self esteem and confidence is one of the biggest hurdles.
My daughter has tried numerous hat styles, wigs and bandanas, some good, most uncomfortable, hot, tight, or she fears it will fall off in front of others. We live in Florida, so covering her head is critical, and one can imagine how incredibly hot it is for her.
She found the BeauBeau, and WOW!!! Confidence, Comfort and Style all wrapped up in one product. She loves her BeauBeau. As a matter of fact, she will not take it off; wears it everyday to school. She wants one in every color of the rainbow!!!
Most people in today's society use their hair as part of their individual fashion image; the BeauBeau allows the Alopecia suffers to feel fashionable and to create a fashion image they are proud of.
We love the BeauBeau!!!
Jill and Madison Locastro
Bradenton, Florida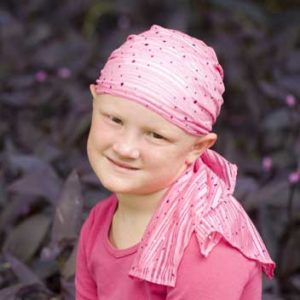 Got the scarves! Thank you so much for your help. I was so glad you could make more of the Diva Du Jour. I absolutely love not only the pattern, but the material. So soft, so comfortable to wear.
I get many compliments on my scarves. If I can't have hair, beaubeau's make a pretty good alternative.
Sandi September
I love them!!!! People tell me all the time that they love them. A girl at my fish store didn't recognize me and thought I was just some lady stylin and rockin a head scarf!!!! I always say?."it sucks when you're worn out and have no hair. The beaubeau kinda makes you feel normal and a little more feminine??"
Liz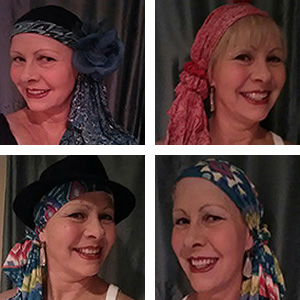 Thank you! I absolutely love the scarves! I get compliments on these everywhere I go! It's nice to have more options than just wigs!
Lisa 
A patient of mine told me about your head scarves. I commented on how amazing hers was and asked her where she got it which lead to me to your website. She is a member of a young adult cancer support group and they tried a lot of head scarves and found yours to be the best. Thank you for doing what you do!
Ashleighn
I wanted to tell you that I received the 4 scarves that I ordered last week and I love them. I have a few ordered from other companies, but yours are by far the best. The fit is perfect and comfortable. The workmanship and quality is outstanding. Finally, the fabrics are beautiful and so fun. Honestly, adding the scrunchie is brilliant. I will be ordering more. Thank you for such a wonderful product.
Lydia
When I first developed Alopecia Universalis, it was not a good time. After trying wigs I mostly wore bandanas and hats. Then I found BeauBeaus on the NAAF website. Comfy and good looking.
A year and a half later, my eyebrows returned and my eyelashes. And then my hair grow back-not thick and wavy, but it was hair. I carefully packed away my favorite scarves and BeauBeaus. Over the next few years I shared my BeauBeaus. One went to a friend with alopecia, and several went to women who were on chemotherapy. One woman told me that this was the best scarf she had and the most comfortable.
My favorite BeauBeau I did keep, one for yoga class, the Run Around Brown exercise BeauBeau. And that was good because my hair all fell out again this past summer. It?s still not great. I really miss my eyelashes. However I have options, and BeauBeaus are my favorite option.
So now I am ordering some new BeauBeaus, however my favorite, Round Around Brown, gets the most comments and compliments.
Thank You for helping us bald headed ladies look great and feel better,
Jean 
Just a note to thank you so very much for your creations. I'm an ER nurse with a recent Alopecia Universalis diagnosis. I lost approximately 80% of my hair in 60 days! I'm fairly new to my job so my co-workers were trying to be so very polite and not come right out and ask about my hair loss! I lived in Saudi Arabia for a while so I'm quite fine with rocking headscarves. I love your batik prints as they go so well with my scrubs. Thanks again for this great design.
Tanya 
Thank you for creating such beautiful scarves. My Mom battled cancer for 5 years and her fight ended last week. I was so thankful to have found your site. My Mom loved your scarves and was so proud every time someone commented on how beautiful they were (which was often). Even the little thinks, like your scarves made such a positive impact on my Mom's fight.
Krissy
Your scarves are great! They made a huge difference for me when I was going thru chemo 4 years ago. I always recommend them to others.
Lisa
I have been searching for something my 3 year old daughter Abby with alopecia would enjoy wearing. She is loving the beau beau and she looks adorable. The fabric is great and she loves the "pony tail" features. This will be life changing and bring her much joy.
Thank you!
Sarah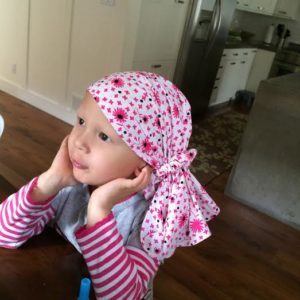 On October 21, 2011, I found a lump in my breast. It was cancer. I was supposed to have a lumpectomy and five days of radiation. Unfortunately, the biopsy of the tumor revealed a progesterone, estrogen and hertz positive tumor that needed to be treated with two rounds of chemo, a year of herceptin and six weeks of radiation.
When my hair began to fall out, I tried a few different styles of wigs. I felt like a child playing dress-up. I also tried a variety of scarves, hats, etc. nothing seemed to reflect me until I tried the beaubeau scarves.
I was "challenged" at tying regular scarves and the beaubeau had the elastic and a scrunchy. I watched the videos how to change the look and…wow…I could do this! Then I looked at the colors, patterns, materials. Neat! I can choose to turn something bad into a chance to accessorize! I could even go swimming with the Swimbeau! Now I have beaubeaus in every color, many of the prints and most of the exercise offerings.
I went through the treatments and expected to have my hair grow back. I had been thinning on top prior to cancer, but now was very bald on top. I was diagnosed with lichen plano pilaris which is a result of the chemo, and alopecia. I am under a dermatologist's care and have some regrowth but not enough.
I'm blessed to be alive! I'm blessed with my wonderful family! My husband Pat, my daughter Kelsey, and my mother are in the picture below. I am also blessed with amazing friends who never failed to help, from preparing meals when I was so sick, to sending cards, and being my cheer section. I am blessed with my doctors who were always kind and masters in their field.
The beaubeaus are a great blessing in my life. They let me feel a confidence in myself that I had lost when my hair fell out.
Thank you so very much!!!!!
Maureen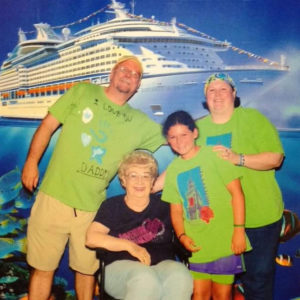 Thank you so much for telling me about that scarf, it's exactly the one I was looking for and just ordered it. Thank you again for creating these wonderful scarves. I'm a Southern girl, originally from Georgia, and we've always believed that the "higher the hair, the closer to god" 🙂 So I always had to have "big and poufy" hair. But, your scarves have made me feel lovely during such a difficult time! Thank you and happy holidays.
Dianne
My scarves arrived late yesterday. They are even more beautiful than they appear on the computer! I really love the colors and prints of these scarves. Sometimes they match so well that it looks as though I had them specially made for my native clothes!
Thank you again,
Sabena
Thank you for creating something so lovely. Today someone was complimenting on of your scarves and I said, "I know, I may never go back!" The wish list feature is extremely helpful. All it took was one mention on my blog and i think I have 8 new scarves coming my way~ It was a nice way to "let people help"…which has not exactly been easy for me!
So thanks again. Keep up the great work!
Betsy
I received the scarf today. I wanted to thank you for the fast processing of the order!! I ordered it late Saturday Night and it was processed and shipped on Monday, receive the package today (Wednesday). That's just awesome!! Thank you for the lovely products and the great customer service.
Can't thank you enough.
Kyla
I want to thank you for the two beautifully gift wrapped scarves I received here in Brazil. They are well made, wash well, easy to put on and comfortable to wear. Your scarves have given me a confidence in a very trying time in my life. Thank you again.
Chesla, Brazil
Thanks so much for my scarves. I just love them. I don't know what I would have done without these. I get so many compliments. I will be happy to leave your brochures at my oncologists office. Last time, I left them they were gone before my appointment was over. Thanks again for making such a lovely product for women who lose their hair to chemotherapy.
Mary, FL
I was diagnosed with Triple Negative Breast Cancer last February, at age 41. I found the tumor myself and we knew soon that cancer was in a lymph node, too. My husband and I found an oncologist and a clinical trial that we felt good about and I've been lucky through it all to have plenty of support and resources.
But I was so worried about our children in those first few weeks that I could hardly breathe.
paradise-found-in-chocolate-and-aqua-power.JPGOnce we assured our 6-year-old son that he couldn't catch cancer, he stayed blissfully unconcerned for a few months. It was tougher for our daughter. At 8-years-old, she asked some heartbraking questions, but her most vocal concerns were about hair loss. She begged me to have a wig ready to put as soon as I shaved my head. So I spent $500 on a wig. I hated it.
Searching for an alternative, I tried giant cotton scarves, beanies, strecthy tubes of fabric and hats with ponytails attached. Finally, I read about BeauBeau scarves in an online support group.
Paradise Found Chocolate arrived first and my daughter and I both loved how it looked – it's still my dressy favorite. It was wrapped in pink tissue with the sparkly Aqua Power scarf, which my daughter claimed as her own. I knew then that I'd never have to wear the wig. When I first wore So Scarlet, she said, "You look beautiful, Mommy. It suits you." Best compliment ever. My favorite, though, is my Grape Rush Exercise BeauBeau. Stretchy and machine-washable, it catches sweat, but doesn't slide or show sweat stains. When I'm hiking in the woods, it just looks like a cool head scarf and I feel strong and normal. Not like a cancer patient at all.
Six months of neoadjuvant chemotherapy, plus a bilateral mastectomy and removal of 8 lymph nodes on September 28th, helped me start Breast Cancer Awareness month cancer-free. My family is all breathing easier and no one cares anymore what is or isn't on my head. Still, I wore my favorite BeauBeau just yesterday. A week after my surgery, I can raise my arms enough to slide it on before a long walk. Nothing's better than getting back to normal.
Maybe my wig will finally get used on Halloween.
Nicole Yates
More about my cancer story at Clownandpoodle.com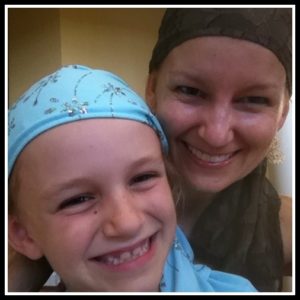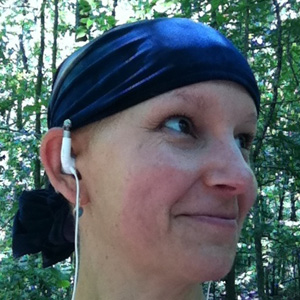 Thank you so much for writing back to me and checking on the scrunchie. Truly, I can't begin to tell you how many compliments I've received on the scarves. They really are exceptional. They're comfortable and they are so beautiful. I feel wonderful wearing them.
Of course, they told me I'd lose all of my hair and to be prepared, so I bought two wigs and ordered hats and scarves (it wasn't until later that I found your amazing site). The wigs I packed back in their boxes – never worn. I would look in the mirror and it didn't feel like me. Your scarves make it fun to put an outfit together.
There's an Ethiopian saying… "When spiders unite they can tie up a lion.". I have been so blessed to have the support of so many loving people.
You're certainly a part of that group I treasure.
Till soon.
Susie
I am starting my first chemo tomorrow and my first beaubeaus arrived today. I am so thrilled with them, I have just completed my second order. Overseas service has been excellent and our designs and fit are far superior to anything else I have seen. Many thanks and I'm sure I will be ordering more.
Val UK
Wearing my FAVORITE beaubeau!
Thank you
Terri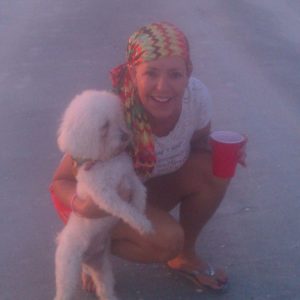 Thanks so much! I am thrilled to be able to go on vacation and not have to worry about wearing a wig at the pool or beach. I know you must hear this all the time but it is life changing to be able to wear a cute swim cap that matches swimsuits and not have people stare at you for lack of hair.
Thanks again.
Debbie
Here is a picture from my son's wedding. If there is perfection, the wedding was a close to that as possible. My chemo was delayed because of two surgeries so I actually felt fantastic for the wedding and so much to be thankful for. I'm wearing one of my six scarves, all of which I love and am constantly getting compliments. This scarf couldn't be more perfect. Thank you for a beautiful product.
Susie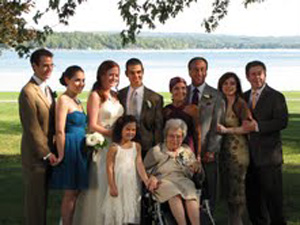 Sometime in the early 80's I read an article from Good Housekeeping about a woman who had lost all her body hair. I found her story fascinating. Thereafter I thought of her every time I shaved my legs. About 10 years later, at the age of 31, I looked in the mirror and suddenly realized my hair looked thinner. Then I looked at my brush and was totally shocked at the amount of hair it held. At first I thought I was going the way of my grandmother and aunt who's hair grew very thin as they aged. But then my beautician noticed a bald spot on my next visit. I was a nurse by then and looked up Alopecia. I realized that it could lead to total hair loss. THE SAME THING THAT WOMEN WENT THROUGH! I felt a sense of doom. No. This can't be what I have. It can't be. But it was.
It took 5 years for my hair to go. the eyebrows and eyelashes went last. That was hard. Each phase of hair loss brought more tears. Tears that felt like they were coming all the way up from the soles of my feet. I coped by telling myself to keep it all in perspective. As a nurse I knew that there are a host of autoimmune diseases out there. I could live without hair.
I've had Alopecia Universalis for 16 years now. I would say that the worst part of AU is sensing a strangers pity or discomfort when they pass me. The best part of AU is being able to get ready for virtually any event in 30 minutes or less!
I wore a wig for 6 years, but always wanted to throw it out the car window. I chose to wear an ever evolving mix of bandanas, scarves and hat combos. Which eventually led me to beaubeaus.
I love beaubeau! I love that they are neat, stylish and comfortable. I love the classic style of the bun and feeling like I have "flip ability" when wearing it down. They look great with hats too.
I have so many beaubeau that it is hard to choose my favorite. As of writing this I still don't know which I will choose!
Thank you for this opportunity to share some of my story.
MJ Baco.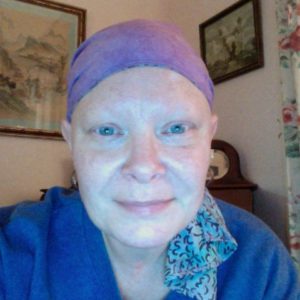 I LOVE your merchandise! I am not taking chemo for cancer but another serious condition where the doctors need to shut down my immune system with chemo. I was originally told that I would not lose my hair so what a surprise last month when it started falling out quickly. Having your selection in my actual head size has been GREAT. I am just not ready for the wig route.
Thanks to 4women~!
Jean
Just returned from the gym, sat down at my computer and saw your ad. How timely! Joanna's story is inspiring and of course, I ordered the Go for the Gold Beaubeau!
I've been feeling down lately again about this hair thing. I guess that's just the way it's going to be – most of the time I'm fine, but sometimes I'm not. Sometimes it's fun to wear a scarf or wig and sometime it sucks. Just happy to be on this side of the grass. i know the new scarf will be an upper to wear to exercise. Thanks!
Suzanne
My beaubeau scarves arrived yesterday. I must tell you I love the feel and colors of Aloha. It was an after thought addition to my scarf order but I just love it for it's soft feel. The colors are beautiful. Guess you can tell I love the color. Thanks for inventing such a wonderful head cover.
Noel
I love your scarves and don't think a person can have too many of them! We attended a wedding in NY and everybody loved how I was able to match my scarves to the clothes I wore in each of the three functions. The scarves sure make getting ready a lot easier. I truly won't care if my anti-epilepsy drugs eventually cause me to loss of of my hair.
Sabena
Just wanted to let you know how many many compliments I get on my Bedazzled Fuchsia scarf – at chemo yesterday SO many women commented on it. They said it was beautiful. I truly love it – it makes me feel more beautiful and more like myself. Thanks you!
Janice
I have a strong family history of Breast Cancer, so it was not a surprise when I was diagnosed, but I was not really expecting it at the age of 40! Having been through it with my mom and one of her sisters (my other maternal Aunt was diagnosed 1 month before me), I knew what to expect from treatment but the thought of losing my hair was terrifying. My doctor told me 3 weeks, and sure enough, right after my 3rd treatment I started really noticing it. By the 3rd day I couldn't take it anymore and just went up to the bathroom and buzzed it. I immediately felt better! The thing that I dreaded the most was over! I won't say I enjoyed it, but after a few weeks I really started to recognize the benefits of getting a few extra few minutes of sleep in the morning.
It was kind of hard deciding what to wear to go with the beaubeau I wanted to wear each day. I love all my beaubeaus and can't really pick a favorite but my "go tos" are the reversible BB Art and Soul and Chocolate Truffle. The best compliment I have received on a beaubeau was the first day I wore one after buzzing my head. I went into a sandwich shop to grab lunch wearing the Black on Black Silk and the cashier just gushed about how much she liked my scarf. Most people I had come into contact that day wouldn't make eye contact with me, so that really made me feel better.
Aimee Palmer, FL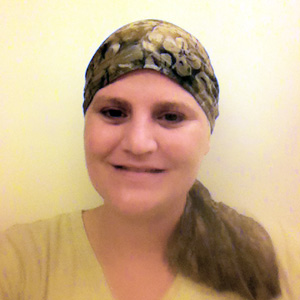 Khalai, our May beaudiva, was recently a flower girl at her father's wedding. She shared her special moment with us!
Khalai Golden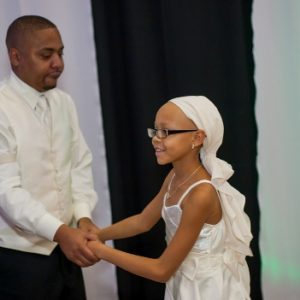 I love your scarves! They are the easiest to wear, light weight and the most attractive without stuffing things in the crown "for fullness". I have an assortment of things that DON'T work. I will now gather an assortment of beaubeaus as they work best. My hair loss is temporary – chemo/radiation, but I will pass along the information to others- great invention.
Vicki
I just wanted to say thank you for these scarves! I have been wearing them for the past 6 months while going through chemotherapy for ovarian cancer. I am happy to say, I no longer need them! I am a survivor! My hair is coming back in and just last Saturday, i got brave enough to take off my beaubeau and show off my VERY short hair.
The scarves were a good pick me up during treatment. I always felt as though I looked good in them and in fact I did receive many compliments on the colors an designs. Thank you for what you do for women who are going through difficult times, every little bit of encouragement means so much. Take Care!
Ellen
I have Alopecia and was very excited to recieve my beaubeaus! Now I can ditch my wig in favor of wearing a beaubeau when I exercise.:) Thank you for such a wonderful product.
Amy
I just wanted to let you know how well the swimbeau worked out on my Disney Cruise with my 2 little grandchildren. I wore the swimbeau on the AquaDuck waterslike and it stayed on so I could enjoy the ride along with my family. My sweet daugher-in-law wore the other swimbeau to keep my company and we looked very fashionable! Again, thanks for all the great beaubeaus – I simply don't know what I would do without them.
Maryann, Beaudiva of the Month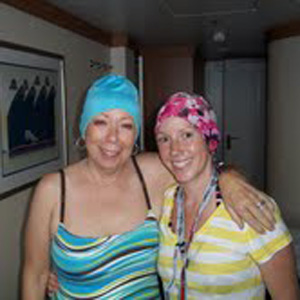 I wanted to know if you had Art and Soul back in stock. I am not in active treatment at this time but I am totally addicted to beaubeaus. They kept me going during a very difficult time. Keep up the good work!
Fondly, Barbara
I just wanted to let you know that my mother has been cancer-free since late 2009. The beaubeau made such a difference that year – she didn't wear a wig once, only scarves. She absolutely loved them and so did everyone who saw them. I will be forever grateful to Susan for the difference she made in my mom's battle with cancer.
Warm Regards,
Leanne
My life with Alopecia began about five months ago on a perfectly normal day. After I took my morning shower I happened to notice how much hair I had lost. Many years ago, I had a few bald spots, but the hair always grew back and I put Alopecia and hair loss out my mind. This time Alopecia seemed to determine to stay! In just three months I lost all my hair and began to wear a wig. I would put my wig on just as soon as I got up in the morning and wear it all day. The wig was uncofortable and causing me to have headaches. I became very depressed. I live in Arizona where it tends to be very hot and the though of wearing a wig all the time was extremely unappealing.
One day I was searching the Internet and came accross the 4Women.com website. I truly feel that was a life changing event. I spoke with Susan and she was so encouraging which really made me feel so much better. I also ordered a few beaubeaus to see if I liked them. As soon as they arrived, I tried one on and was amazed at the comfort and style. Now, I'm addicted to beaubeaus and just love them all. My favorites are Electric Avenue (which I'm wearing in my photo), Berry Passion and the workout scarf, Run Around Blue. I also bought two swimbeaus to take on vacation so I could swim and be fashionable. I could not fathom wearing a rubber bathing cap.
My husband and family have been very supportive trhough this experience and compliment me on my ability to match outfits with my beaubeau collection. I love going to 4Women.com's website and reading their blogs. It really is very helpful to know that I am not alone. Thank you 4Women.com!
Maryann Abair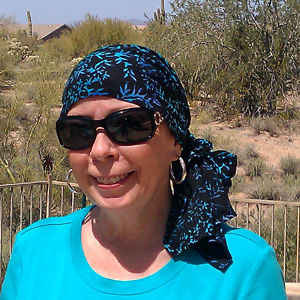 Just looked at the photo contest winners and decided to write. I was in your office last spring and purchased 4 beaubeaus. Although I had not lost all of my hair at the time of my purchase, I was prepared! You personaly helped me in my selections and I so appreciate your compassion. I was complimented every time I wore them and they were a comfortable and stylish alternative.
In fact when I took my husband and daugher to Libbys in July – who should walk in at the same time with her family..but you. We caught each others eye and – each wearing a great beaubeau scarf. Chemo and 6 surgeries later I have recently passed on my scarves to two cancer ladies from Michigan, one I have never met but have been corresponding with since her diagnosis. I cannot tell you how many people I have referred to your site and of course locally. I now volunteer at the Cancer Support Community and have the pleasure of answering phones and am able to offer your scarves as an alternative to turbans or wearing wigs.
Anyway just wanted to thank you for helping me get through a very difficult time With sincere appreciation.
Debbie Ingram, FL
It was great speaking with you. I have to tell you I love my scarves! They fit great and the styles are simply awesome. I have attached a photo of one of my favorites. Thanks for making such a wonderful product.
Rebecca PA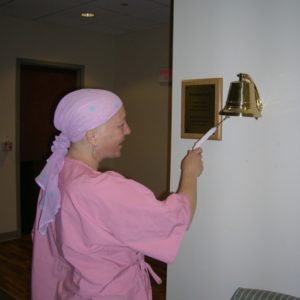 4Women is a company that definitely prides themselves on integrity. It has been a refreshing experience to deal with such wonderful people. I am an ovarian cancer patient going through chemo therapy. When they told me that I would lose my hair, I was devastated. I had beautiful long blonde hair that I know I loved far too much.
As the treatments continued I started to lose more hair. My son finally convinced me that it was time to have our heads shaved. He was right by my side every step of the way. Now here I am bald, facing the world. I had picked up a couple of scarves from the wigh shop here in town. After a couple of weeks I was ready for some new ones. I went surfing on the Internet and came across these beautiful beaubeau's. I received many compliments about how pretty my scarves were and people wanted to know where to get some. Funny most had no idea I had cancer, they thought I was wearing them to to be stylish :). All I can say is that if anyone is looking for a great selection of quality scarves go to 4women.com and you will be happy you did. They also provide EXCELLENT service.
Thank you ladies for helping me get through this storm in my life. Your love and compassion shone through from the moment I placed my order and still continues. May GOD continue to bless you as you continue to be blessing others.
BIG Love,
Deanna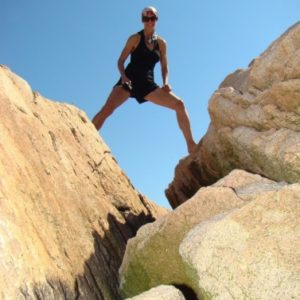 First of all I love my beaubeau transitional scarf. It's gorgeous and now I can get over the case of beaubeau envy that I've had ever since I saw your scarf. Thank you beaubeau team for another creative idea!
Julie
This is a picture of me and my five year old daughter Elise in our "Glitter Glamour". elise is my mini-me and when she saw my collection of scarves, she begged me to buy the colorful, heart-filled one for her in her size. She was so proud of her beaubeau – she wore it for a week straight during summer camp.
I was beginning to think my collection of beaubeau's was becoming an addiction. I loved having matching scarves for my wardrobe and felt great when people would stop me on the street to ask me where I got my stylish scarf. I am thankful for the ray of sunshine they gave me on frequent glommy days of treatment.
Our fingers were crossed that we would win the photo contest so that we could donate the prize to a fellow fighter. Thank you for allow us to share your beautiful scarves with someone battling cancer.
Heidi and Elise Quandt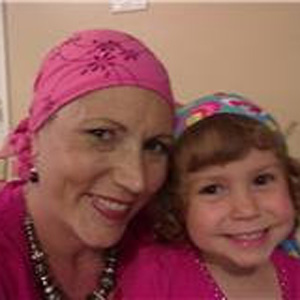 I love my beaubeau's because they are lightweight and convenient. I can wear them for work or dress them up for a special occasion. Everyone compliments me on how nice they look. They have made my hair loss less of an issue and having a choice of colors gives me something to look forward to every morning!
Patricia, FL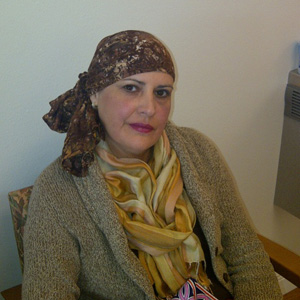 First of all, thank you for such a wonderful product. I am loving my beaubeaus. In fact, I ordered 4 more yesterday, and thank you for the 10% off coupon as well. I appreciate your wonderful customer service.
Lisa
Absolutely LOVE your scarves. my hair is growing back after chemo, but I still ordered more. I get compliments every time I wear one. My chemo nurses wanted to know where I got them because other patients have seen me wearing them and wanted some. I am like a walking advertisement!! Thank you again for a beautiful product.
Mara
"Yes, you will lose your hair" – six words no women wants to hear. So after my 15 minute pity party, I got down to business and just shaved it off. After visiting a few stores that had scarves, I came across the beaubeau and I've been addicted to them ever since. How wonderful to not only have a stylish alternative to an itchy wig, but to be able to coordinate my scarves with my outfits! I even put up a shoe rack so that I could display all of them and easily find the color I need when getting ready to go out. At first, I would wear my wig when going gout to dinner or to a play but now I just find the scarf that goes best with what I'm wearing and wear the beaubeau proudly. After all, why not be stylish – that's who I am!
Thank you 4women for helping all of us feel better about ourselves at a time when we might not. Thanks too for your wonderful and special customer service. It is very much appreciated!
Joan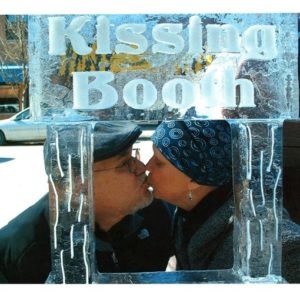 I just received my third beaubeau! I love them so much that I now wear one on my walks under my hat instead of my wig that I've had to wear for the past 2 1/2 years due to Alopecia Universalis. I even wear my wig to take my kids to school. Soon, though, I may even put my wig away. I especially love my new beaubeau that I received yesterday (black on black workout). It's so comfy and looks beautiful! I can't wait to buy more! I put a beaubeau rack on my wall. Thanks for helping me look stylish and feel good about myself.
Anne Marie VA
Thank you so much for the incredibly fast service! I placed my order on Thursday and received my order on Saturday in Arizona. When I opened the package, I was amazed at the beauty and quality of the beaubeaus. I put one on right away and I am loving the comfort and style. It was a pleasure to speak with you the other day…you made me realize that I had to get back out there again. My alopecia is fairly new and I'm still getting used to the new me. When you get the eyebrow makeup, please let me know..that would definitely be a priority for me. Again, thank you so much.
Maryann, AZ
I just returned from my trip and wanted to let you all know that I just LOVED my beaubeaus and received many compliments on how beautiful they were! They are not only gorgeous, but well-made and so easy to put on. Who could ask for more (besides hair?) Smile
Thank you for such a fabulous product.
Sincerely,
Susanne
Thank you beaubeau Team! I am going to use my swimbeau in the Cayman Islands. This total hair loss is very new to me. I was excited to find a stylish bathing cap. I've been looking for quite some time. Thanks!
Connie
Happy New Year!
I just wanted to say I love your beaubeau's and purchased four awhile ago. I get soooo many compliments on them and I always refer them to your site! I bought 4 of the reversible ones so I really have 8 of them. They have helped me through the past few months while enduring chemo. I am still working half days and when I don't feel like wearing my wig, I always have a matching beaubeau to go with my outfit.
Thank you for creating them.
Best Regards,
Judy
I absolutely love my scarves, all three of them! They came at a time when I was really missing my hair. Thank you 4women!
Mellany
These scarves are the most beautiful and best fitting that I have found. I have now been able to pass mine on to a friend fighting the same breast cancer fight, unfortunately. But at least the pretty head wear has cheered her up a bit.
Betty
I love the beaubeau! It is so easy and quick to put on. It looks great all by itself, or I also like to layer it with other things too. It's like playing head dress up. Thank you Susan.
Cathy
Being introduced to this site and beaubeau scarves made me feel so good because I had a beautiful option for my head during and after chemotherapy. I get so many compliments and inquiries as to where I got my scarves and I am happy to share the information.
Joyce
4Women.com and beaubeau's are going to be a life saver for me during my treatments.
Kimberly
Beautful, BEAUTIFUL – scarves for women, without hair loss. Wearing a beaubeau should be a new trend fro anyone having a bad hair day!
Cindy
I just wanted to THANK YOU!!, very much for sending us some of your wonderful scarves for our cancer patients. They absolutely loved them. You are so sweet for sending some t ous to put a smile onthe faces of some very sweet ladies. I truly appreciate your generosity to help others going through the toughest times of their lives. I wish there were more people like you. The world would be a better place!!.
Christy, Center for Cancer Care Huntsville AL
I have been meaning to send you a note to say "thank-you" for the lovely scarf you sent to me as "beaudiva of the month". I was happy to share my story! This scarf will sure come in handy on these cold Michigan days! My youngest daughter was even excited for me to open the package.
Thank you again and have a wonderful day.
Multi, Michigan
I have been meaning to send you a note to say "thank-you" for the lovely scarf you sent to me as "beaudiva of the month". I was happy to share my story! This scarf will sure come in handy on these cold Michigan days! My youngest daughter was even excited for me to open the package.
Thank you again and have a wonderful day.
Multi, Michigan
Let me start by saying THANK YOU. My 6 year old daughter was diagnosed with Alopecia two weeks ago. I discovered your website through the NAAF. I ordered two scarves in the hopes that she wouldn\'t have to wear them. Within that two week period she lost all of her hair. So enter the beaubeau! Once that she put that scarf on she was her old self again. I have since ordered three more scarves. Thank you so much for helping us get through this rough time.
Thank you from a relieved parent.
Monika Virginia
I just wanted to share how incredibly wonderful I'm finding your scarves. We go to Disneyland quite a bit and going on the rides – the scarves work great. Because they are fitted (and not the "one size fits all), they aren't too tight. I have received many compliments. Thank you! I am giving the information to my oncologists office… feeling good about yourself (whether you are dealing with hair loss from cancer or another condition) and pretty is so important. Please keep me on your mailing list. Wonderful product line!
Bonnie
Thank you! Thank you! Thank you! – For the beautiful scarves I wear them everyday mixing and matching the colors with my outfits. The shock of losing my hair after whole brain radiation was worse than the treatment itself. Your scarves made me feel confident and beautiful.
Joanne
You've packed and sent about a dozen beaubeau scarves to me in Guelph Ontario, starting before I lost my hair. Don't know what I would have done without you – your excellent designs, styles, colors….the works! Being without hair is not to be minimized! Having a range of beaubeau's made the state quite tolerable. I presnetly have a return (or sorts) of hair, though not entirely recognizable as mine. Oh well!
I passed on about eight scarves to other friends undergoing chemotherapy, who are as relieved as I am to have talented, bright you on the side of any woman who loses her hair.
I have passed on about eight scarves to 2 other friends undergoing chemotherapy, who are as relieved as I am to have talented, bright, kind you on the side of any woman who loses her hair.
Thanks so much. You do much more than provide a commodity!
Best to you and your family.
Maureen
Just wanted to extend my appreciation for the wonderful work you do for cancer patients. I purchased two of your beaubeau's after my chemotherapy for
CNS Lmphoma. They made me feel beautiful during a time when I was down, frightened and sick. People commented on how great I looked in the scarves, and that really boosted my spirits. I even had someone stop me in the store to ask where I got my scarf – they also had lost their hair to chemo. I explained where I got it and how easy it is to put on because it is already pre-tied.
Anyway, my hair has grown back now and I no longer need to cover my head….BUT I'll always remember the positive lift you gave me. Thanks again.
Lynette
My oncology office has a social worker on staff and when I met with her, she gave me a catalog from the American Cancer Society to look through. I also knew of a wig company from when my mother had cancer. I had already placed a few orders so I had something when the hair loss began. However, when it came time to wear the items, I really wasn't thrilled with anything I'd purchased. The wig I got was very nice and everyone said it looked great on me, but I didn't like the way it felt while on. It was hot, a little itchy and just generally uncomfortable. The "caps" weren't flattering at all. And fussing with a scarf is not my idea of fun. I decided to do a search online for other options and found the Beaubeau. When I tried it on, I knew there was no going back to the wig or a hat. They are comfortable, colorful and so easy to wear. I love having the option of a side pony tail or a bun. Plus there's no folding or tying involved! I also wound up purchasing a couple of Lucy Sleep Caps (love them too!) and the Beaubag (my chemo goodie bag). Great products.
Theresa
My beaubeau arrived today and I am so pleased with it. I watched the styling video and then saw and then saw the video about the founder of the beaubeau. I, too, am BRCA positive, though I found out only after being diagnosed with breast cancer. I am going through treatment now and will have more prophylactic surgeries after that. Your beaubeau's will help me through it, and hearing your story give me hope that I will survive and live a healthy and active life. Thank you!
Pav
I recently ordered 6 of your beaubeau headscarves, and wanted to tell you that I am very impressed with the fabrics and construction of your scarves. They are gorgeous….and SO easy to wear. I am about to end the chemo phase of my breast cancer treatment before going into the radiation part….and I so appreciate lovely scarves like this to help me to feel stylish and not like an ET replacement!
Thank you so much,
Karen Kott